AUTHOR: John Gillespie TITLE: Almost ready to go DATE: 9/15/2006 10:49:00 PM ----- BODY:

Well, we've just said goodbye to the last people to leave our house tonight as they came to say goodbye to Beth, Jeff, Elijah, Carter, Kath, and me! Almost all my preparations are done and ready. I'm tired. I've worked hard. I've had more inoculations in the past week or so than I can count on one hand. I've spent more time on the phone than you want to hear about. But... Things are mostly sorted out! Now all that's left to do is pack a few things and catch my flight out! We're travelling to London on Sunday and then I'm flying out to Kansas City on Wednesday the 2oth. After I spend a few days with my grandparents there in Kansas, I'll be flying out to Hawaii on the 28th. If anyone's in London and wants to meet up for coffee on Monday, give me a call on 07880 968822. I'd love to spend some time! I'll update again over the next few days in London. It's sweet to be finally on my way to a part of the world that I've wanted to go to for so long. Check out this photostitch of my room at uni.
liambyrnes DATE:9/16/2006 01:40:00 PM Hi John,
The bar is still on the side on my computer, but often the resolution and text size that the browser settings are on affect the side bar.

Try unpublishing your last post and the bar should be back on the side on the computer that it wasnt before. I have a feeling its because of the width of the stitch picture.

Anyway you dont need to worry about that with your new typepad account!

HAPPY BIRTHDAY BRO!

Liam ----- -------- AUTHOR: John Gillespie TITLE: Welcome to the DTS update page! DATE: 9/10/2006 10:39:00 PM ----- BODY:

Well for those of you who used to read this blog regularly, sorry I've been 'off the air' for so long! For those of you visiting for the first time, welcome!

The face of this blog will be changing over the next few months, as I embark on a new adventure with God. The last post has a link to the UofN in Kona, with YWAM, and I'm actually flying out there on the 20th, to start my DTS (Discipleship Training School). I'll be attending the October quarter Compassion DTS, focusing on the AIDS epidemic in Africa.
----- COMMENT: AUTHOR: liambyrnes DATE:9/11/2006 07:48:00 AM Nice dude, that would be sweet. Pretty cool pic too.
liam ----- -------- AUTHOR: John Gillespie TITLE: Welcome to the Summit DATE: 4/03/2006 03:00:00 PM ----- BODY:

God desires the best for me. If I am willing to let him lead, and follow with my everything, I don't need to worry about where things are going.

So, I trhew myself into the application, and it didn't pan out. I still think that's the way to go, but it looks like I now have another year before thenI could possibly be in med school. Funnily enough (or more likely, through Gods providential interventional input), over the last few weeks I've seen the desire grow in me for some other things for next year, to the point that i was going to try to defer my Uni place if i did get in. So, maybe I shouldn't have been surprised at the results....

Check this out.

thebluefish DATE:4/24/2006 10:27:00 AM Desiring God is a brilliant book... Christian Hedonism all the way! ----- COMMENT: AUTHOR: lisatheobold94686950 DATE:5/09/2006 01:45:00 AM Get any Desired College Degree, In less then 2 weeks.

Call this number now 24 hours a day 7 days a week (413) 208-3069

Get these Degrees NOW!!!

"BA", "BSc", "MA", "MSc", "MBA", "PHD",

Get everything within 2 weeks.
100% verifiable, this is a real deal

Act now you owe it to your future.

(413) 208-3069 call now 24 hours a day, 7 days a week. ----- -------- AUTHOR: John Gillespie TITLE: Nothing Else Compares DATE: 2/08/2006 04:15:00 PM ----- BODY:

Chris Tonlin's anointed songwriting genius. Breathe it in.

thebluefish DATE:2/11/2006 06:53:00 PM Minor point. Song by Laura Story / Jesse Reeves, not Chris Tomline. But its a seriously good song. Captures something of God's words at the end of Job. ----- COMMENT: AUTHOR: DATE:2/24/2006 10:07:00 AM this would have had a lot more of an effect if we knew the tune of the song btw ----- COMMENT: AUTHOR: John Gillespie DATE:3/03/2006 10:42:00 PM Looks like I should do some research before blogging. Maybe one of these days I'll give in altogether... ----- COMMENT: AUTHOR: thebluefish DATE:3/04/2006 10:26:00 AM Don't give up... best approach, yeah research and keep sharing. ----- -------- AUTHOR: John Gillespie TITLE: Can you believe... DATE: 1/26/2006 02:49:00 PM ----- BODY: ...its already halfway through February, and I haven't blogged a single post this year yet! As usual, feeling bad about it - but not bad enough to make me want to post any more than I do! Since the last post I was away for 10 stunning days in the resort of Tignes Val Claret in the French Alps learning to snowboard. All I can say is I'm hooked! It was totally awesome - snowboarding aside, the mountains are simply insane. I've never seen mountains that big before (even though I know the alps aren't so big considering) and there was something awesome and wild about being on top of them in the sunshine, even if I had the luxury of ski lifts and good coffee and nice resaurants. I think it's said of mountains that the higher you go the more you leave behind - and for me that was true! I found that as I spent time up there, above the treeline, breathing thin air, my heart was taking huge fresh gulps of God. I came back from my time there blown away, praising God for his goodness. It felt like a cold drink on a hot, dry day to my heart - totally refreshing! I think there's a certain transcendance in mountains, something mythical and awesome about them, which can cut straight through everything else, and speak straight to your heart. Something about the way their peaks soar straight up into the deep blue sky, something about their complete barren wildness - it strips everything bare and enables your heart to hear clearly - to hear God clearly - to hear itself clearly. In the business and constant drive of western life, that's something which is really ahrd to find - a place where you're stripped bare of distraction and engagement, and left with an engagement with heaven. That aside, the snowboarding was so crazy! I've never picked up a sport so quickly or loved it so much. There's something awesomely freeing about screaming down an icy run on the edge of control, carving round sweeping corners with ice-cold wind in your face and the mountains as a backdrop.... I loved it! Since then I've even dreamt about it I loved it so much! I can feel it now.... I hear the boarding in Scotland can be good but there hasn't been any snow yet - roll on a cold front! ----- -------- AUTHOR: John Gillespie TITLE: Free online books.... DATE: 12/30/2005 03:22:00 PM ----- BODY: Check out this site. Books on which the US copyright has expired.... useful if you're ever bored and in need of a good read. Project Gutenberg
Pick of the day is Einstein's Relativity : the Special and General Theory

Pick of yesterday was H.G. Wells' The War of the Worlds

----- COMMENT: AUTHOR: megangilbert6094 DATE:1/03/2006 02:19:00 PM I read over your blog, and i found it inquisitive, you may find My Blog interesting. My blog is just about my day to day life, as a park ranger. So please Click Here To Read My Blog ----- COMMENT: AUTHOR: airline tickets DATE:1/14/2006 03:57:00 PM It is always a pleasure to visit sites like yours. I was searching for some info on cheap airline tickets and arrived at your site. I found it very informative though I was really interested in cheap airline tickets related information.

Drop by my site one of those days if you care to http://www.cheap-flights.ebizempires.com ----- COMMENT: AUTHOR: airline tickets DATE:1/14/2006 04:05:00 PM Hi, I was recently surfing, checking out the latest information on discount airline ticket and I came accross your site. While discount airline ticket was not what I was searching for, I found your site to be an interesting one.

Hi, maybe you can drop by my site one of those days discount airline ticket ----- COMMENT: AUTHOR: howardcollins21604657 DATE:1/26/2006 02:16:00 AM I read over your blog, and i found it inquisitive, you may find My Blog interesting. So please Click Here To Read My Blog

http://pennystockinvestment.blogspot.com ----- -------- AUTHOR: John Gillespie TITLE: Thoughts of the Day DATE: 12/30/2005 02:39:00 PM ----- BODY: I was reading in Lamentations today just by chance really - it was one of those mornings where you open the Bible and you start reading where it lays... Not the greatest of ways to get into the Word no doubt but it still hit me deep with these words... "25 The LORD is good to those whose hope is in him, to the one who seeks him; 26 it is good to wait quietly for the salvation of the LORD. 27 It is good for a man to bear the yoke while he is young. 28 Let him sit alone in silence, for the LORD has laid it on him. 29 Let him bury his face in the dust— there may yet be hope. 30 Let him offer his cheek to one who would strike him, and let him be filled with disgrace. 31 For men are not cast off by the Lord forever. " Lam 3:25-31 I've been letting that sink in all day while I'm working. This is speaking about true brokeness before God and before the rest of us. So often I'm up so high on my high horse, to the extent that I feel hurt or let down when I'm corrected or sorted out by someone, or when I hear that somebody's been talking about me behind my back. And in truth, it does hurt, even if you are broken about it. But so often I'm not. So often that initial pang can turn into self-righteous anger, or indignation, that 'they don't have the right to...(fill in the blank)'. I claim to be a disciple of Jesus Christ. But if I'm being truly a disciple, which means I'm learning from who he is and becoming like him through a growing, deepening relationship, then I need to be taking his example to heart. And that means burying my face in the dust. That means turning the other cheek, and being willing to humble myself in the sight of God and my fellow humanity, and be willing to expose my shortcomings. Even if that means being misunderstood. even if that means rejection and sacrifice. "For men are not cast off by the Lord forever..." Liam and I were speaking this morning over pancakes, bacon, and maple syrup (with plenty of OJ and coffee) about how insecurity seems to be a part of the human condition. No matter what we do, we never seem to be able to entirely escape from it. I'm even insecure about my insecurities - I so despise being insecure that at any little insecurity which manifests itself I worry that I'm becoming insecure. Which only feeds my insecurity. Insecurity seems to be the thought that we will be discovered as not being able to 'measure up', and found outthat we're pretending. But if we're face in the dust, so low that the dirt's grinding between our teeth, then the only place that confidence can come from is God. If we make all our confidence in "the salvation of the Lord", that confidence enables us to be broken in our place of insecurity, to be honest about who we are, to get off our high horse and be willing to get battered on the other side of our face. Then, despite how we're perceived by ourselves or others, we are freed to live in God's confidence, in the confidence of His salvation. Once we reach the broken place, that's when God can make us back up into the people he'd have us be. He can put his treasure in these jars of clay. God loves to use the weakest of the world for his purpose. It demonstrates his greatness... I'm inspired today to be broken. ----- COMMENT: AUTHOR: James Fletcher Baxter DATE:6/19/2006 02:45:00 AM Each individual human being possesses a unique, highly
developed, and sensitive perception of diversity. Thus
aware, man is endowed with a natural capability for enact-
ing internal mental and external physical selectivity.
Quantitative and qualitative choice-making thus lends
itself as the superior basis of an active intelligence.

Human is earth's Choicemaker. His title describes
his definitive and typifying characteristic. Recall
that his other features are but vehicles of experi-
ence intent on the development of perceptive
awareness and the following acts of decision and
choice. Note that the products of man cannot define
him for they are the fruit of the discerning choice-
making process and include the cognition of self,
the utility of experience, the development of value-
measuring systems and language, and the accultur-
ation of civilization.

The arts and the sciences of man, as with his habits,
customs, and traditions, are the creative harvest of
his perceptive and selective powers. Creativity, the
creative process, is a choice-making process. His
articles, constructs, and commodities, however
marvelous to behold, deserve neither awe nor idol-
atry, for man, not his contrivance, is earth's own
highest expression of the creative process.

Human is earth's Choicemaker. The sublime and
significant act of choosing is, itself, the Archimedean
fulcrum upon which man levers and redirects the
forces of cause and effect to an elected level of qual-
ity and diversity. Further, it orients him toward a
natural environmental opportunity, freedom, and
bestows earth's title, The Choicemaker, on his
singular and plural brow.

Deterministic systems, ideological symbols of abdication
by man from his natural role as earth's Choicemaker,
inevitably degenerate into collectivism; the negation of
singularity, they become a conglomerate plural-based
system of measuring human value. Blunting an awareness
of diversity, blurring alternatives, and limiting the
selective creative process, they are self-relegated to
a passive and circular regression.

Tampering with man's selective nature endangers his
survival for it would render him impotent and obsolete
by denying the tools of diversity, individuality,
perception, criteria, selectivity, and progress.
Coercive attempts produce revulsion, for such acts
are contrary to an indeterminate nature and nature's
indeterminate off-spring, man the Choicemaker.

Until the oppressors discover that wisdom only just
begins with a respectful acknowledgment of The Creator,
The Creation, and The Choicemaker, they will be ever
learning but never coming to a knowledge of the truth.
The rejection of Creator-initiated standards relegates
the mind of man to its own primitive, empirical, and
delimited devices. It is thus that the human intellect
cannot ascend and function at any level higher than the
criteria by which it perceives and measures values.

Additionally, such rejection of transcendent criteria
self-denies man the vision and foresight essential to
decision-making for survival and progression. He is left,
instead, with the redundant wreckage of expensive hind-
sight, including human institutions characterized by
averages, mediocrity, and regression.

Humanism, mired in the circular and mundane egocentric
predicament, is ill-equipped to produce transcendent
criteria. Evidenced by those who do not perceive
superiority and thus find themselves beset by the shifting
winds of the carnal-ego; i.e., moods, feelings, desires,
appetites, etc., the mind becomes subordinate: a mere
device for excuse-making and rationalizing self-justifica-
tion.

The carnal-ego rejects criteria and self-discipline for such
instruments are tools of the mind and the attitude. The
appetites of the flesh have no need of standards for at the
point of contention standards are perceived as alien, re-
strictive, and inhibiting. Yet, the very survival of our
physical nature itself depends upon a maintained sover-
eignty of the mind and of the spirit.

It remained, therefore, to the initiative of a personal
and living Creator to traverse the human horizon and
fill the vast void of human ignorance with an intelli-
gent and definitive faith. Man is thus afforded the
prime tool of the intellect - a Transcendent Standard
by which he may measure values in experience, anticipate
results, and make enlightened and visionary choices.

Only the unique and superior God-man Person can deserved-
ly displace the ego-person from his predicament and free
the individual to measure values and choose in a more
excellent way. That sublime Person was indicated in the
words of the prophet Amos, "...said the Lord, Behold,
I will set a plumbline in the midst of my people Israel."
Y'shua Mashiyach Jesus said, "If I be lifted up I will
draw all men unto myself."

- from The HUMAN PARADIGM ----- -------- AUTHOR: John Gillespie TITLE: Snowboarding in Tignes DATE: 12/27/2005 09:40:00 PM ----- BODY: Well in less than a week I'll have flown south jsut before leaving to France for a weekand a half of snowboarding with my family. Can't wait! I'm dropping the snow report here so I can see it every time I go online without searching, and so you guys can check how much fun I should be having... Check this out. ----- COMMENT: AUTHOR: eXtreme Sports DATE:4/30/2006 07:44:00 AM Wow, I really dig your blog man. It's so cool your into sports like that. I wish I had the guts to do the same. I dared to make a website about it: eXtreme Sports, Greetz Xtreme! ----- -------- AUTHOR: John Gillespie TITLE: Posting from Ecto - Hot!!! DATE: 12/27/2005 09:13:00 PM ----- BODY: Check this out! My first ever post from Ecto.... I hear the Windows based version is pretty archaic compared to the Mac version but I thought I'd check it out on a free trial just the same.... We'll see how this bad boy goes! Also, I've created a little "Sauce of the Week" section in the sidebar since in our house we're trying to check out a new sauce every week.... Maybe I'll provide litle reviews of each one. As I couldn't find any photo's for the sauces we're on just now, I thought I'd start with the old favorite - Endorphin Rush. This stuff was insane. It was bought as a joke for my family by my old friend Jesse Foot and then I STUPIDLY made a dare with some buddies to eat a teaspoon full of the stuff. Here's what the website says: Here's the rush you've wanted to experience! Release the sensation that only the very special taste of Endorphin Rush can! Heightens any food: first an explosion of flavor, then a wave of heat! The rush that goes beyond hot! I say that it's the hottest thing I've ever tasted, it burned through my intestines in less than 12 hours, and gave the the biggest case of after-shock i've ever experienced (if you know what I'm saying). Have a good night everyone! ----- -------- AUTHOR: John Gillespie TITLE: In the Meantime... DATE: 12/05/2005 08:38:00 PM ----- BODY: In case you just Can't Wait for the rest of my post once Flickr is up and running, here's a couple of thing to be amused and informed by... World News from the BBC
Kanye West is coming to Glasgow- playing at the SECC!!! Buy tickets while you still can.... David Crowder Band. Be entertained. Be inspired. Be a GoodReader. Be Boot Scoot Boogie #2. Be looking funny.
"Constantly probing the scientific underpinnings of music and worship, David Crowder Band once again explores deep beneath the surface on its first full-length studio project since 2003's "Illuminate." With "A Collision," the six-piece modern worship outfit unfurls its most diverse and sonically compelling album to date – an 18-track set clocking in at a satisfying 73 minutes and change." Lifted from Crosswalk Have a good night... ----- -------- AUTHOR: John Gillespie TITLE: The wheels on the bus DATE: 12/05/2005 07:33:00 PM ----- BODY:

Well, as promised, a week on I've finally had the time and the inclination (at the same time, which is key) to sit down and photo blog a little about my trip to Cornwall....

I was going back for Thanksgiving originally, but a plethora of factors meant that I spent forever on the raod, only to miss TWO Thanksgiving dinners by only a few hours each way! Firstly, when I should've been booking my CHEAP CHEAP flight down south I didn't have the DO RE MI necessary for such a mode of travel so I waited.... (near-FATAL MISTAKE #1). Then when I went to book my flights, they were too expensive, so I had to book a bus (yes you heard it) a bus trip instead (near-FATAL MISTAKE #2). On the upside, this entire bus journey (including the bus-card I had to purchase to get the good prices) cost half what the best-priced flight would have been. Then, I find out that because my little bro was having his engagement party on the day we would ahve had thanksgiving dinner, we were going to have it on sunday instead, and I'd miss it by on hour as my bus left that morning (Don't worry Jake I won't hold it against you or Beth). THEN, I found out that my family was also going to Jesse and Tracee Foot's house for Thanksgiving on Thursday night, while I was to be on the bus south - I was gutted, but I got over it.

So, the journey begins at Aberdeen bus station on the freezing cold and rainy night of Thursday the 24th of November, 2005. I got on a bus, took some sleeping pills, and didn't fall asleep til after this 1am service station stop somewhere on the M6.
I finally got to cornwall about 21 hours after getting on the first bus in Aberdeen, to find it under 4 inches of snow! Crazy. I've never seen that much snow stick in Cornwall before. It was beautiful - there was almost no-one on the roads, the place had ground to a halt. AFter dinner I went out and played in the snow with my little bros Jake and Ben, sister Rebekah, and nephew Elijah. It was COLD man.

Do you know what? This is taking far too long with Blogger's software. I think I need to get a Flickr account....

----- -------- AUTHOR: John Gillespie TITLE: Congrats.... DATE: 11/29/2005 02:02:00 PM ----- BODY:
Congratulations are due to both Liam Byrnes and Dave Bish, two good friends of mine who both recently achieved a permalink on the frontpage of TallSkinnyKiwi's site. A spot on Andrew Jones' site is truly an honor so I'm sure they're both stoked (I know Liam is cause he ran out to the car as I left just to tell me!).

Congrats people.

----- COMMENT: AUTHOR: thebluefish DATE:11/30/2005 08:51:00 AM Very honoured.
Thanks for the links and cool to catch you online recently.
Blessings on you brother.

(btw, its Bish not Bishop) ----- COMMENT: AUTHOR: John Gillespie DATE:12/06/2005 10:35:00 PM Sorry to get your name wrong bro, thanks for setting me straight! Bless up. ----- -------- AUTHOR: John Gillespie TITLE: Back from the Journey DATE: 11/29/2005 01:54:00 PM ----- BODY:

I hope to blog the trip properly over the next few days. It was a blessed time of good food, friendship, and time for my heart and God. I needed that - maybe the 45 hours of bus were a blessing in disguise after all!

----- -------- AUTHOR: John Gillespie TITLE: Internet Cafe... DATE: 11/28/2005 05:16:00 PM ----- BODY: I'm sitting in an internet cafe somewhere outside vicoria station in central London, passing the time before my 12 hour bus saga home... I just finished sitting a 3 hour exam that turned into 5 hours of sitting in an exam hall - it was difficult but painless. I'm now tired and ready to roll... literally! Have a good night people! Look forward to John's trip blog coming soon to a website near you! Bless up ----- -------- AUTHOR: John Gillespie TITLE: Need of a bling laptop (maybe not need) DATE: 11/23/2005 11:41:00 PM ----- BODY: Mmmmmm. This is the night before I take a pretty much 24 hour bus journey to cornwall, and I'm just realizing how much I could do with a bling laptop like liam's with so ectoblog offline blogging love on it.... Well, maybe one day it'll be a reality! In the man time I'm hitting the sack. Sweet dite of the day: DCB - check it out. ----- COMMENT: AUTHOR: liambyrnes DATE:11/25/2005 12:06:00 AM Eeek, sorry to rub this in but Im on it right enjoying wireless at the cafe at Uni.
One day John, but hey the good thing our lives dont need "stuff" but it does make it comfortable for a while...until it all starts crashing.
Also I was chatting with somebody the other day (cant remember who) about how my situation has cahnged alot in the last year (while Ive always been super bling rich in global terms) Ive been skint,living on 5 quid a week last year to this year buying a bling iBook, maybe Gods giving a bunch of sweet wtuff to me just now because in the long run Im going to be some impoverished missionary in some non wifi place. hehe, well what can you do.
enjoy your Bus journey Bro, Ill be praying for you ----- -------- AUTHOR: John Gillespie TITLE: Wireless in the Wilderness!!! DATE: 11/12/2005 01:57:00 AM ----- BODY: Well, all I can say is welcome back to my now operational blog after months of off-time. It's been a while since my last post, the main difficulty being that I haven't had a good opportunity to get near an available computer with good net access very often over the past few months... BUT tonight marks the first night of our brand spanking wirless setup in the house - maybe North-east scotland isn't so far behind after all! No promises, but definately watch this space, as I do have some serious blogging to catch up on.... Have a sweet night people! Oh yeah thanks to Liam for starting crazy rumors that I might be picking this blogging baton back up.... Blessings. ----- COMMENT: AUTHOR: Steve DATE:11/12/2005 02:07:00 AM WebProBlog Launched Today
We are proud to announce the launch of WebProBlog, a weblog run by iEntry Inc. Chief Executive Officer Rich Ord, focusing on the trends, issues, and e-business skills fundamental to the e-commerce professional.
Find out how to buy and sell anything, like things related to company construction mn road on interest free credit and pay back whenever you want! Exchange FREE ads on any topic, like company construction mn road! ----- COMMENT: AUTHOR: liambyrnes DATE:11/18/2005 12:53:00 PM heinous, check it out comment spam already. I suggest haloscan.com to sort that out.

Keep Blogging dude.

Liam ----- COMMENT: AUTHOR: james king DATE:1/31/2006 10:12:00 AM Erectile Dysfunction can be a serious blow to the self esteem of a man. Although it is not a dangerous health condition, yet can indicate grave health hazards. cialis can be the answer to the male sexual problem of impotence. Men buy cialis as it is an effective sexual drug that has its effect for at least 36 hours. Internet is gaining popularity these days as it has become one of the prime sources to buy cialis online. cialis online is sold by several pharmacies that provide cheap cialis. ----- -------- AUTHOR: John Gillespie TITLE: The night before the last day.... DATE: 6/14/2005 10:06:00 PM ----- BODY:

Well this is it - tomorrow is my last exam and i will forever (well for the forseeable future anyway) again return to university. Very crazy.

Tonight i went out and stood on the flat roof as the sun was setting and was just thanking God for his goodness and fiathfulness to me over the last few years here. It's been almost three years since i showed up in this neck of the woods driving my little Fiat Panda. look what God's done! It's been a rollercoaster for sure, and it has NOT always been easy (as my parents and friends will testify) but it has been GOOD.

One horizon at a time.

As the sun sets on this one, as this horizon passes under my feet, i can see the next one in the distance. I have no idea what lays beyond it. I don't know how to get to it. I just know that I have to keep walking in that direction, and my father will lead me. Bless up people,

John

----- COMMENT: AUTHOR: rich DATE:6/17/2005 04:16:00 PM Dude

Many congrats on completion of your studies. I have loved cathing up with all things John in your blog. Mail me soon.

GB

Catley ----- COMMENT: AUTHOR: liambyrnes DATE:10/06/2005 02:00:00 PM Come on John, where are those bloggings ----- COMMENT: AUTHOR: Chris DATE:10/23/2005 02:14:00 PM Hey, You've got a very nice Blog!

Very informative. Be sure to check out my blog on the Make Partition History Campaign.

See you soon :o) ----- -------- AUTHOR: John Gillespie TITLE: DATE: 6/06/2005 09:11:00 PM ----- BODY:

But, beyond the cynicism, there is a great level of truth in this whole movement. What is it that we as Christians are supposed to exhibit? That's it - the love of a God who pours out grace and forgiveness regardless of whether we deserve it (or not) and whether we will turn our backs on his kindness (all over again). So, how can we sit by, worried about a downturn in the world economy that will affect our lives in a small manner (well small in the scope of things), while millions die all over the world. How can we sit by while we can do something?

So get the wristband. Go to the concerts. Have a blast. Be a voice.

Blogging is back.

So. Live 8, Make Poverty History, Make Trade Fair, all these things - sure they do NOT fix the problem. But hey do

----- -------- AUTHOR: John Gillespie TITLE: Sam Rich.... Man of God DATE: 4/22/2005 04:24:00 PM ----- BODY: Just read Sam's latest post through my RSS, and I want to give credit. God is so good, and I'm stoked to know Sam Rich! Just want to say, you go bro - lets do this thing, run this race together. I like it a lot! Bless up. Check out Sam's bling site and his post here... ----- -------- AUTHOR: John Gillespie TITLE: Update DATE: 4/21/2005 11:09:00 AM ----- BODY: Contrary to popular belief I have not stopped blogging, and don't have any plans at this point to stop. I just don't feel the need to continually blog - especially while i already spend upwards of ten hours a day sitting staring at the screen of m computer! Perhaps one of these days (post dissertation, structural analysis, and propulsion technology) I'll remember that sitting at my computer could be fun and didn't hurt my eyes. Then I'll find the time to blog more extensively on what I'm feeling. Some of the things i would do/blog about/set up if I had that inclination would be:

Set up

Flickr

. In the meantime, check out

Liams Flickr photos

and his

photo blog

- turning into quite the ameteur photographer there bro!

Make my blog look as bling as

this site

. Micah Goulart is a guy I met in Brazil and he has the skills.

Read and comment more on Tallskinnykiwi's

comments

regarding

Carson's new book

.

make my own comments regarding my journey through McLaren's

A Generous Orthodoxy

.

Til then, bless up. J ----- -------- AUTHOR: John Gillespie TITLE: DATE: 4/05/2005 08:14:00 PM ----- BODY: Meanwhile plugging away through this dissertation of love. Pray for me people....! ----- -------- AUTHOR: John Gillespie TITLE: DATE: 4/05/2005 08:14:00 PM ----- BODY:

Blogging from Hello - as I feel too busy to blog... and have done for the last few weeks. Just thought I'd share this nice photo - it speaks loud of the father heart of God to me. It's one of the finalist for AOL's best photo of the year - i voted for it.

----- -------- AUTHOR: John Gillespie TITLE: DATE: 3/28/2005 10:20:00 PM ----- BODY:

Easter almost came and went without my stopping to notice....

Thank you God that it didn't!

It's been over a week since my last post, and that week has been a crazy blur of coursework and Starbucks. On Friday and Saturday, everyone else left for home, and I was left here working on an Air Transport Management assignment. Thrilling I know! Saturday evening the Jutester and I trekked down to Breakout - a monthly youth outreach about 20 miles from here. It wasn't feeling much like easter - normally at home we make it a big deal about remembering Jesus over the weekend. I know, its good to remember all the time, but Easter's always been a special time. Anyway, to cut a long one short, at Breakout i was nailed again with the realization - not just the head realization, but the deep deep, deeper than you knnow realization - of just HOW awesome and HOW powerful it is that awesome God, Jesus Christ, sacrificed his own righteousness, body, and blood, that i could be deeply and wholly cleansed from every sin and impurity. Its an insane mystery, one which i hope to never forget and one which i pray always cuts me to the heart.

Later on that night, we went over to Caz Webb's house for Greek midnight communion. It was a ceremony full of love and beautiful symbolism. Makes me wish that we could do it all the time, but then it would become another institution i guess! Again though, I was cut to the core as we ate that bread, drank long warm drinks from the wine, and watched the candlelight (to the sounds of Coldplay - you should try it!). Do you really know what it means to be cleansed and given a new heart, a new life, new hope, a future, through the awesome power of the sacrifice of Jesus Christ? Something breaks deep down when it finally hits home. I think in our busy Western society we could do with cultivating a heart that can be hit with such simple truth to such an amazing depth more often. I know it's what i want.

So, as you can probably guess, my Easter turned out to be one of the most powerful ones i've had ia while. May we never lose that wonder God - as we walk this walk and foray off into deep theology, hardcore ministry, simple laughter - may it all forever be colored and softened by that eternal act of love.

----- COMMENT: AUTHOR: liambyrnes DATE:4/01/2005 08:55:00 PM Sweet dude ----- -------- AUTHOR: John Gillespie TITLE: Arithmetic DATE: 3/20/2005 05:10:00 PM ----- BODY: Been introduced to a good song in the last 24 hours that has beautiful poetic imagery... Let this feed your soul....

I think this song sums up for me some of the mystery of the otherness of God that I've been thinking on a lot lately. Reason, logic, and intellect have their place without doubt in this walk in God's footsteps, but only tempered with the mystery of who he is.

Thanks to the McPeaks for last night's sweet evening of fun, good music, and a good feed. Look forward to spending much more time with you guys over the times to come!

----- -------- AUTHOR: John Gillespie TITLE: Vision - hope for the future. Jesus - hope for the heart. DATE: 3/17/2005 11:44:00 PM ----- BODY:

Yeah baby. Check out Liam's Photo Blog - he's becoming quite the ameteur photgrapher... blessings readers

reader ;-)

----- -------- AUTHOR: John Gillespie TITLE: Leonard Sweet DATE: 3/15/2005 11:08:00 PM ----- BODY: For anyone interested in the writings of Leonard Sweet (who's book, Out of the Question... Into the Mystery I will get around to finishing at some point) will be interested to know that he's just set up a new website. This one is totally devoted to the media which has shaped his thinking - books films music etc. It's in the form of a cool 3-d building which you get to walk around as a character which you choose. Fairly simple but cool. Check it out.... ----- -------- AUTHOR: John Gillespie TITLE: Emerging leadership and vision. DATE: 3/15/2005 05:27:00 PM ----- BODY:

liambyrnes DATE:3/15/2005 07:08:00 PM Hey John,
Ive not got time to read Andrews Post because I have an exam tommorow and I have to make my way to study some more, but in passing here are some thoughts on this post.
Emergant models are great, but I wonder how well they work in practise. Lets remember the internet is information and pages, Church is about people who are alot more important and we must be compassionate with. BTW Im not tearing you here bro just journeying with...
Often I think that some of these models being so de-centralised come from people who have been dis-illsuioned by church, often not the people getting excited by vision...just an observation, de-construction in church is great but does it lose focus on the goal, its de-constructs a larger vessel which although imperfect (which hate to dissapoint anybody but it always will be because its about the imperfect humans inside it!) enables many to bring a vision into a corporate setting.
I was thinking also today, isn't re-inventing church in such a major way a bit self-indulgent, shouldn't we maybe be working with tools we have and getting out there?
Im just not convinced quite that a re-organisation will bring us to a place where more will be saved, which surely is our goal.
Im very rushingly so critiquing alot of great stuff but Im just trying to weigh the balance up for myself and anyone who wants to hear/respond!
Peace,
Liam ----- -------- AUTHOR: John Gillespie TITLE: Miles Davis DATE: 3/14/2005 10:41:00 PM ----- BODY:

What better way to end a day than blog a few things on your heart while listening to the jazzmaster himself. Yes, my eyes are tired but it's worth a bash on the keyboard.

Today I met my mentee. For you who don't know what a mentee is, a mentee is someone who you mentor. I'm part of a mentoring program which runs from a youth cafe in a town near here, and basically involves inputting into a kid's life for a few hours a week. But that's not the point. This guy, who I'm stoked to be mentoring (and who i could use prayer on hey), his name's Daniel. He's 15 years old, and lives in a youth home because his dad's an alchoholic and his step-mom's mentally ill. he doesn't know where his real mom is. Though only 15, he's already tagged (a band around his ankle which means he has to be in by 9pm every night, or the police are electronically notified), in a youth probation program, and has 9 points on his driving licence (which he isn't old enough to have yet), and a two-year driving ban for when he is old enough.

Now that's a lot for some dude who's 15. On the drive back home tonight i was thinking about this. I am so over-priviledged, yet so often i forget about that and can't see anything but my troubles. Sure, I'm at uni and I have more work than I've ever had in my life, and my own share of issues to work through. But I'm so blessed to not have baggage. I'm so blessed to have people who believe in me. I'm so blessed to have the opportunity to be educated and get a good job. I'm so blessed to have family. I'm so blessed to know i'm loved, not just by people around me, but by the Maker of the Universe. That is crazy. This guy Dan has none of that (right now).

Other than that, I've been lost in the later Psalms for most of the past week, and getting lost in the love that God speaks over me there. I'm talking from roughly psalm 120 to psalm 140. I know it's not very deep theologically but just now, it's all I need! There's plenty of time for going deeper. just now I'm "soaking". Yeah baby. Lets spread around some of that 'soaking action'.....

----- -------- AUTHOR: John Gillespie TITLE: DATE: 3/14/2005 01:54:00 PM ----- BODY:

I'm just about to run out to a class but just so you all know - the weekend was good. Included a lot of coursework, strabucking, and trips to spooky old houses....
Looks like something from the Adams family.

----- -------- AUTHOR: John Gillespie TITLE: Question of the night. DATE: 3/10/2005 11:01:00 PM ----- BODY: Q: Is potato on your keyboard a bad thing? A: Probably depending on where it is. I just got back froma great evening out with friends and family. In the family of god's church that is. It was sweet ot be hanging with sweet people. FIrst off, I went out for coffee with Shannan and Laura McPeak, an awesome couple from New Zealand who I've met lately. Two espresso Macchiato's later I'm quite wired and really blessed to know those guys - I look forward to more time together and more sharing in life and following Jesus together. It was sweet guys. The forest fruit cheescake rocked aswell. yeah baby. Then, a quick detour with the Jutester to Fleet to meet up with Mark Methven and Lewis Tonks. Definately two up and coming men of God there - we just met in a car park outside Fleet train stations, stood with hands on each other's shoulders, blessed each other, worshipped god, interceded for things, and generally were brothers together. Only about half an hour, but great. Church as it was meant to be I feel... I think God was smiling at us as we desired hearts like his heart.... Last night was good too in the end - Lifechurch with the lads, it ended up being a time of more reality and depth than we've had yet together I think, and i hope it's a sign of bigger, better, and deeper things to come. So, i'm pretty thankful! Also, I'm through to round two of pimp my ride it would seem.... I had an email back from the producer of it asking for 10 more photos and all the info... Yeah baby - roll on my Kev status... NOT! but still it would be fun. So anyway, just to finish this short post - again, church at it's best is sweet. God is good to his people. blessings! ----- COMMENT: AUTHOR: thebluefish DATE:3/12/2005 01:08:00 PM Ah, there you are Jon. Well gutted we've kind of lost touch this year. Sounds like you're doing well. Perhaps we'll touch base again one day before you leave Farnborough.

Dave Bish ----- -------- AUTHOR: John Gillespie TITLE: Thought of the day and my new car.... I can dream can't I? DATE: 3/09/2005 07:02:00 PM ----- BODY:

----- COMMENT: AUTHOR: rebecca DATE:3/10/2005 01:41:00 PM Looking pretty smooth next to your 'wanna have' car!!!You neva know though your dreams mite come true!!!But look at it this way, Jesus rode a donkey so any car that you could have would be betta than that!!!!!
Stay stoked and count your blessings!!!!
xx ----- -------- AUTHOR: John Gillespie TITLE: Where are you going DATE: 3/07/2005 11:18:00 PM ----- BODY:

This is a song by Dave Matthews that I've been stuck on for a little while now - it's got a great tone, expecially the version on the Live in Central Park album. Listening to it now and it is good...

My time right now is slowly but surely being surrendered to the final year rush. Yes, it is definately upon me - I have 5 major assignments along with my final year project which should ideally all be in before May. That is, if I really want to be able to study for the exams in June.... Yes, it is here, and though sometimes it does seem like a bit of a mountain, in two and a half years God and I have climbed every one we came up against, why should this one be any different? It isn't, and maybe that's why i'm not so scared as I could, or should be. All it means is long days and long nights for a while... and that extra 900% which God equips me to do. It really is unbelievable at times how he pours out blessing on my work - sometimes I even feel like it's not me typing or writing....

The last weekend was one of a lot of struggle, but one of a lot of blessing. I got a chance to chill out with just me for once, which was really nice. Phil and Jules were away all weekend so they lent me their house and I loved it! It's free-ing to have you own place definatley. At the same time, i wouldn't move out for the world right now I don't think. My flatmates rule.

It was Mother's day here on Sunday, so I sent Mom some flowers, and got a phone call from her - it was sweet to talk to mom. It seems that somehow as i grow up, the more i appreciate who she is and what she does, and the more I love her dearly, but the less attached I become to her. All the same, on sunday, i needed some mothering. I am so blessed to have some ladies in my church who do mother me, but I would have loved to have you there Mom. You're the sweetest thing to me. (Soppy but true, I'm a self-confessed Momma's boy as much as I'm a Poppa's boy).

In the mean time, lost in wonder, lost in love, lost in praise. Jesus still has my heart! He'll always have it....

----- -------- AUTHOR: John Gillespie TITLE: This is a cop out. DATE: 3/04/2005 10:48:00 PM ----- BODY: Yes, this IS, ladies and gents, a cop out. Check out the following blogs for cool stuff. Good picture of Liam, Mix, and me on Byrnesy's Blabberings Cool thought provoking poem on Si Johnston's Blog Thought provoking quote on Arlen's blog Thought provokingness about pride on Meegan's Blog Nice post from last monday on love - Bo's blog (nice one bro) have a nice night, I'm house-sitting all weeking for Phil and Jules... Stoked to have a sweet house to myself. Pretending it's mine lol. It's nice to get some good time by myself though hey. Have a blessed weekend everyone. Search for Him.... In his grip, John ----- COMMENT: AUTHOR: Antony Hanson DATE:3/05/2005 01:30:00 AM Copping out's ok every so often. Don't make a habit of it though. ;) Humor bro, humor. :) ----- COMMENT: AUTHOR: liambyrnes DATE:3/07/2005 06:05:00 PM Hey John, thanks for the link as ever your officially my 3rd best refferer, not that that really matters. Anyway just a helpful point is when you link to peoples posts click on the times at the bottom at it takes you to a "permalink" basically the page dedicated to it forever and amen and so when people find your posts years on they can still find the thing you were linking to it, eg Meegans link instead of to http://www.walkergirls.blogspot.com/ it would be a link to http://walkergirls.blogspot.com/2005/03/arrogent.html

Peace Bro, 4 His Glory ----- COMMENT: AUTHOR: John Gillespie DATE:3/07/2005 11:41:00 PM Cheers liam - will do ----- -------- AUTHOR: John Gillespie TITLE: Eugene Peterson DATE: 3/02/2005 07:05:00 PM ----- BODY: Some good quotes of Eugene peterson on Arlen Hanson's blog... read on and be challenged. ----- COMMENT: AUTHOR: Aaron DATE:3/04/2005 04:34:00 AM hey bro, its been awhile...i'm on spring break and blogging has kinda taken a backseat. i've read some of those quotes by peterson and i am quite intrigued. i never knew him to be an author beyond "the Message" so i'm definitely gonna have to check him out. delirious on sunday, i'm so pumped. peace bro. ----- -------- AUTHOR: John Gillespie TITLE: DATE: 3/02/2005 06:26:00 PM ----- BODY:

Spent Saturday evening and the whole day on Sunday with friends up in St. Combs, which is a little town about 50 miles north of Aberdeen, in what has become Liam's local church. We got to spend time with awesome people who i haven't seen for a year and a half, the Craig, Stu, and Rach Fyvie, and Lindsay Espie. Really awesome times, and felt really at home up there in that church... We'll see what happens there - watch this space.

Scotland is a land of intense beauty. The picture on the right was early Sunday morning - it doesn't do justice to the sunrise that morning, but I thought it was worth putting up anyway. It calls to my heart up there. So anyway, yeah it was a real time of rest for my heart and soul, a time to get inspired and a time to seek God. It was sweet. I'm waffling I know.

Will update more soon and hopefully write some of the stuff I've been chewing over lately in terms of doctrine and theology. Blessings.

----- -------- AUTHOR: John Gillespie TITLE: Taking up the cross DATE: 2/24/2005 11:17:00 AM ----- BODY: Today I'm reminded of a quote of an old friend of my Dad's. It goes something like this I think:

"If you're going to follow Jesus, people will walk all over you.

Let them do it."

Credit where it's due, I don't remember the guy's name, but if I did I'd reference him. Basically what it's saying is that if you decided to live a life of love, you'll be misunderstood, miscommunicated, and people will take advantage of you to boot. Let them do it. yeah pretty painful but hey. I guess that's what Jesus was all about anyway. And I claim to be a follower of that man who 'did not open his mouth'. Well I'd better follow him then.

So, though i feel a lot like people lately have been taking advantage, and many circumstances have been against me, and false charges are being made, it's ok, it's alright, cause God sees. And anyway, "who can bring any charge against those whom God has chosen?" Romans 8v33.

So here I go out to face the music tonight. Those of you who read this pray that I've got the humility and sense of identity to be teachable and secure as charges are brought tonight. Thanks.

----- COMMENT: AUTHOR: DATE:2/14/2007 01:18:00 PM Regarding your blog about city college manchester. The best site for city college manchester is **http://www.freepremiership.com**. http://www.freepremiership.com is the top free osccer website in the world and features the latest Premiership club news, fixtures, scores, scorers, radio streams, tv streams and lots more football links. ----- -------- AUTHOR: John Gillespie TITLE: Short post again! DATE: 2/23/2005 07:15:00 PM ----- BODY: This is a short one, cause right now blogging is taking a bit of a backseat (I know heavy right? there's so much I'd love to blog about, plus I think I'm going to move across to Typepad or something similar soon, but i think it'll all happen after uni ends in June. Anyway.). Just a few quick things. Been thinking a lot lately about direction for life and stuff.... Loads of people have been asking me what I'm doing when i finish uni and I keep saying "not sure yet". then i get the now expected response of raised eyebrows and a tut. hmmmm. Whatever. I'm feeling a little bit like Abraham when God said go wherever I lead you and if you turn to the right or the left then i'll tell you. Or whatever. Abe had no idea where he would end up when he set off, he just knew he had to saddle up and ride camel ride. God led him. A lot! Stoked. Was stuck on the M25 for 2 and a half hours last night in an 18 mile long tailback which i had to drive through in it's entirety. While i was stuck in it, was struck by an intensely beautiful moment when the snow was coming down with all the red and white lights... It was a nice moment in the jam. Speaking of intesely beautiful, I finally saw Hero last night. Now I need to watch it again, cause I'm sure there's more to it than meets the eyes but last night i was shattered watching it. There was one sic quote but I can't remember it. Anyway. A STUNNINGLY beautiful experience. Put it on the big screen, turn it up, sit back, and drink it in. yes i liked it. Check it out. Going back to the busyness of life right now, and hoping to have peace and quietness inside even as everything is a little crazy around. I know God's speaking, I just want to hear. Aberdeen day after tomorrow. Stoked. ----- -------- AUTHOR: John Gillespie TITLE: Sunday night.... DATE: 2/20/2005 11:39:00 PM ----- BODY: Vague reference to maroon 5 in the title.... Loving Sunday Morning by them just now. The smell of take-away pizza is drifitng in through my open window as i write this post. For those of you who haven't had the honor/pleasure/ummm experience of visiting my flat yet, it's now directly above a pizza joint.... Not sure if that's a good or a bad thing. At least they don't have to deliver far! Ok that was only once that we were that lazy. Yeah just been doing project work all night and I'm a little fed up of it. It's going - at least - and that's definately good, but it's feeling like a slog right now! When i get some stuff worth showing together i might post some stuff so you all can feel my pain. Ha, no, I am actually stoked to be doing it. Just a few quick points before I have to cut this post short. Look out for new xml/rss/syndicate stuff coming up on this site. Liam's going to help me sort some stuff. may start using thunderbird or something too in preparation for leaving, getting iBooks, and setting up a typepad.com blog... Mmmm. Definately will be upgrading things this summer. Hero comes out tomorrow on DVD. I haven't seen it yet but i hear it's a very under-rated film so I'm going to watch it hopefully on tuesday night with some guys. All up for some heroism, bravery, and courage. On a similar theme, stoked on Aaron's post on Band of Brothers... Check that out. Lastly, stoked to be going up to the far northern corner of the UK this next weekend to see my brother Liam. They had snow up there this weekend - would love some of that. May swim in the freezing North Sea aswell. We'll see. looks like my SA bro Jute is trekking with and maybe my biological bro Jakey. again, we'll see! Sleep well all. J ----- COMMENT: AUTHOR: Aaron DATE:2/23/2005 06:16:00 AM i see youre reading "Out of the Question...Into the Mystery." Thats an awesome book. tell me how u like it when youre finished... ----- -------- AUTHOR: John Gillespie TITLE: Divinely Inspired - a short post on Charisma.... DATE: 2/17/2005 09:54:00 PM ----- BODY: This was a post i was writing about charistmatic-conservative stuff, and it was coming out completely wrong and far too judgmental so I'm going to re-write it when i get a chance and come out with where my heart actually is and throw some questions out there... Blessings all. In the meantime, i'm struggling with my dissertation right now... Final year and all. appreciate your prayers all.... ----- -------- AUTHOR: John Gillespie TITLE: Reportage DATE: 2/16/2005 05:10:00 PM ----- BODY:

This won't be my longest post.... I'm pretty wasted after the weekend and the past few days - It's been great but right now I'm so tired all I want to do is sleep! Were I to post today though, I'd post on some of this stuff (and you can watch this space because I might try to catch up later this week...)

1) Altar calls and prophecy - the ministry of Todd Bentley as I saw it this past week in my church here at uni. Really cool and made me love Jesus more - so that means to me that it was good, but I have thoughts and questions.... hmmmm.

2) Squash. Hitting black balls at walls in a small room. Great fun.

3) Going to Aberdeen next week baby! Hopefully anyway....

4) The wrecked clutch in my car - i need one of those £200 Volvos

5) Wagamama - Good food for the yuppie/coffee shop cultured generation which I experienced for the first time this past week.

6) Going to BAe Systems and having a base commander try and get me to join the Air Force

7) God and his goodness - Toward a Godward life 3 maybe?

8) The visit of my lovely sister Beth and her best friend (and my good friend) Lara Critchley. Beth is now somewhere over North America, Lara's in Manchester and I'm shattered from laughing lots, stayin gup late, and getting up early. Good times though. Catch up later.... For those of you who want something good to read click here...
La and Beth

----- -------- AUTHOR: John Gillespie TITLE: iTunes - Defintely PLEASURE DATE: 2/12/2005 11:54:00 PM ----- BODY: Just to say - iTunes definately ROCKS - you can share with up to 4 people on a local netowrk and we've sorted it out in our flat tonight - works a treat! I can access all of Paul's and Alex's music librarys with the click of a button... Cool. I'm definately a Apple man. ----- COMMENT: AUTHOR: Aaron DATE:2/15/2005 08:59:00 AM yes, once you turn to apple, you cannot turn back again...thanks for commenting on my blog. i look forward to reading yours as well in the future. and who knows, maybe you can introduce me to your friend Meegan. she's quite the looker. anyways, man, much grace and peace to you this day. ----- -------- AUTHOR: John Gillespie TITLE: iTunes - pain or pleasure? DATE: 2/11/2005 11:44:00 PM ----- BODY:

Just to let all you people in the continental United States know... You are bless with a huge selection of songs on iTunes. I'm stuck with UK iTunes - it just doesn't meet the challenge of my diverse tastes. pull it together Apple UK.

----- -------- AUTHOR: John Gillespie TITLE: The rise of the emerging blog.... DATE: 2/11/2005 10:17:00 PM ----- BODY:

Man that Liam Byrnes is one thought provoking guy. Stoked, blessed, honored, am I to have him as the great friend he is to me. Awesome awesome.

Just writing out of response to his post 'Its a Small Blog World' with some of my thoughts on Emergent church and blog and stuff.... I was washing dishes just after I read his post on that tonight and got some good time with just me to think about stuff. Here are my thoughts in no particular order.

Firstly, I'm stoked to be a part of the emerging church movement. If I can claim that actually. If being part of the Emerging church means that I've got a healthy dissatisfaction with current 'church practice' and 'Christianity' as it is seen in most circles, and I'm seeking the God-centred truth about how we're meant to live as people who walk in relationship with God, then I'm in, I'm part of the movement, I want to be there, I'm there all the way. I'm at the same time though, a little wary of totally jsut going oh yeah, "I'm emerging everyone!". Here are my reasons. Firstly, I'm still a little wary of that youthful rebellion which can so often rise in my youthful spirit and the spirits of other youthful people around me, and I want to be sure of where my heart is - that it's not just out of rebellion that i'm asking questions and pulling the thread. That's why I'm so stoked that the emerging church movement is characterized by a move of all ages in the same direction - community, relationship, etc. Very Cool. I dont think that's where my heart is, so i'm stoked. But the second thing is something entirely different. If you see the title 'Emerging' in the sense of 'yes, i've been inside that cucoon, i've been asking things, seeking god's heart about stuff for the past 'x' amount of years, and now I'm 'Emerging' like a butterfly emerges from it's cucoon into the beautiful things that God brought me to a realization of, then I think can't take that title yet. Right now, though these thoughts have started to bounce aroudn in my head for the last couple of years or so, I feel more like a caterpillar just creating my chrysalis to go and hide. I'll do plenty of emerging, but the process is only jsut beginning. I remember reading something on Andrew Jones' Blog a while ago about upstarts being all "I'm post-emergent". Whatever. I've got a long way to go and I'm a VERY unfinished Christian. So, while I'm stoked to be being led by God down this path, I'm just seeing how far i ahve to go, and I dont want to be too pretentious. But then, the whole thing about 'Emerging' is that it suggests an ongoing process. Maybe I can claim that name after all....

Other thoughts are - yes I am so stoked that blogs are taking over the net right now, and it seems a timely time for them to become popularized, especially seeing how they can, as Liam's already talking about (so I won't go into it) facilitate and encourage discussion and the sharing of ideas, inspiration, and revelation. If there was ever a time when we needed this it was now hey. So I'm stoked. It also helps people like me down here in the South-East of England, where emergin kind of thought seems definately thin on the ground, to know that I'm not alone in it and to be able to bounce stuff off people and read what others are feeling all around the world. Stoked. It is sometimes gutting that there doesn't seem to be many people asking the kind of things that my heart is asking down here, but I know that God's working in my heart, and so it's encouraging to see how he's working in the same ways in others, and has been for years already!

Sorry about the typos. Love to hear what you guys are thinking about my stuff - also if there are any of you fellow emerging hearts out there in the south-east let me know hey. Blessings. Check out Liam preaching in my student kitchen.... Liam you're a legend in your own time.... As is that hair - now gone forever??? ;)
Byrnesy Blabbering...

----- COMMENT: AUTHOR: Nigel DATE:2/14/2005 01:41:00 PM G'day John,
I was doing a search for emerging church blogs - and I found yours because of this post.
I agree that the idea "emerging church" is a rebelling church is a problem.
There is no use arguing traditonal ways of doing things are 'too old' or irrelevant, unless we can demonstrate that what is emerging is bearing good fruit. If we are going to have a Do It Yourself church and not wait for someone else or some institution to authorise our expressions of church - we better do a good job of being a great church and not just bagging the church that others are already being.
Actually I am lucky enough to have a foot in both camps. Our church is both maintaining traditional models of worship etc and allowing new ones to emerge within the same church.
You can check out some of what we are doing at my new blog www.eucaview.typepad.com ----- -------- AUTHOR: John Gillespie TITLE: Wow third post today! DATE: 2/11/2005 09:55:00 PM ----- BODY: I'm doing well - blatantly haven't done any work today but then I've been off-balance all day (want to know what I'm on about then read my first post...). So I'm going to do a bit of posting then go to bed.

Listening to Bethany Dillon right now. My brother's been going on about her for an age and I never really gave her music a chance but check some of it out. Really loving some of the stuff though now that I'm sitting down to it. She's totally the child prodigy it seems, though i don't know how much of her stuff she writes or what. It's not overly deep - jsut generally nice and some real good stuff in there too if you go digging. I suggest you check it out - if you don't want to buy the album then pick up some of the tracks on iTunes USA or from the "Beautiful Sessions" EP on iTunes UK. Ummm I'm digging 'A Voice Calling Out', and 'Exodus'.

Lex Brodie, who led worship a lot at the Soul Survivor events and SoulintheCity last summer has just released a sweet song on Passionforyourname.com called 'Heaven Rejoices'. It's got a good sound and speaks to my heart. Right click the link and click 'Save Target As'. Cheers to Soul Survivor/Passionforyourname.com/survivor records... i hope that covers all possible bases!
----- -------- AUTHOR: John Gillespie TITLE: Office Linebacker Lovin DATE: 2/11/2005 06:54:00 PM ----- BODY:
Hey check out the links on this site. For all of you out there who are feelin it, leave a comment. I was hosing myself! Credit goes to Chris Pritchett for the link... Blessings dude.

Pain Train's comin in!

----- -------- AUTHOR: John Gillespie TITLE: Sleeping in DATE: 2/11/2005 10:19:00 AM ----- BODY:

Today was one of those days where you don't have to get up early and you make a concious decision to ignore your alarm going off. It was sweet - I also had one of those dreams where you can kindof control it and keep it going - though you know you're dreaming you know? I think it's called a lucid dream. Anyway. It was cool. Then i got up and couldn't stand up straight for about 5 minutes which was pretty funny - I was walking around the house leaning on the walls! So anyway I've had a nice chilled out morning with Jesus and a big mug of the old coffee beans...
Now Liam will probably correct me for all the things i say wrong in this, cause he's such a political genius, but politics is invading every area of my life. It pervades the very substance of any relational thing in life it seems. I'm cooking dinner right now, and in just an hour or so there's going to be a big political debate over who washes the dishes. I know I may be using the word loosely but you know what i mean - work, uni, friends (or not-so-great-friends cause usually good friends and politics dont really happen so much), family, everything! Before we even mention social policy, the marginalized, ethnic groups, and national government. Heavy. Thats why if someone says they don't do politics they're either deluded, or... well, deluded. That's why it seems to be definately irresponsible not to get into national politics or micro-politics (as in the littler areas I mentioned). Not getting into the one kindof helps to invalidate your other. WOW I'm so not politically minded.

The early church didn't die the deaths of martyrs just because they wouldn't recant their set of principles. No, they diedthe deaths of martyrs because they KNEW someone, and they would NOT back out of that relationship for anyone, or anything. Thats what being a "Christian" is about. It's about being a "believer" in the true sense of the word - what it was meant to mean - something like'be living, be loving, be loving the beloved'. You want to know what I'm talking about? Read Sweet's book pg. 27. Relationship. Not knowing a set of rules to live by - but knowing the person, the object of worship himself, GOD.

Stealing a lot from Sweet's poetic words - I don't want to 'have the information but not the transformation'. I don't want to be more in love with my 'principles of peace than with the Prince of Peace'.

So, tonight a word of caution to myself and the rest of us not willing to accept the boxed-up, pre-packaged, slide down easy version of Jesus. When you're out there finding out how to follow Him truly, remember to discover who he is. He is for me and I am for him. Stoked.

Tonight I watched the real-time ER episode where the dude dies. Moving stuff... made me think. Mad me want heaven too - a bit of longing never hurt anyone. Blessings all.

----- -------- AUTHOR: John Gillespie TITLE: ...coming back to the heart... DATE: 2/07/2005 10:26:00 PM ----- BODY:

Yes, after this past weekend and reading Liam's post today, all i want to talk about is Grace. So amazing. So outstanding. So outrageous. Yes God is graceful to forgive and bring us back to himself- and without that I'd be lost. Thanks God.

So today, I'm just thanking you for ransoming my heart. I'm stoked - and then you didn't stop there, but you're ransomed the hearts of the world and bringing them back to yourself. Awesome. Thanks.

Deep I know.... But then again, maybe it's deeper than you thought!

----- -------- AUTHOR: John Gillespie TITLE: Interesting Reads... DATE: 2/04/2005 11:46:00 AM ----- BODY:

Today I'm covering for Sye in his shop - photocopying and selling stationery. Though it's quite slow and boring and i have no idea how to run things, its ok because I'm getting to read a lot and hang out with god some... Very cool. I'm also checking out some websites - just thought I'd list some findings...

The Soul Survivor magazine - New February articles, competitions and Voxpops. Got some good stuff on here about poverty, hype, Jeremaih and dreams.... Check it out! Make Poverty History - Believe it or not this is the first time I've actually visited the website. Some really good stuff on here to stir your heart into action. Also tells you where to get wristbands from although Tearfund has sold out! Walkergirls - another great post from Meegan.... I see a woman of power coming out.... Brian McLaren - The more I read of his books and stuff he's said like lately on Larry King Live (CNN), the more I'm a) impressed, b) inspired, c) challenged, d) confused. (Not confused in a bad way but instead in a way that will make me re-examine the whos whys and whats of what i believe.) His website speaks a lot of who he is I think. for the transcript of the Larry King show click here (courtesy of Andrew Jones's Website). Other than that, just chillin, lovin not being able to do anything but hang for once. YES! Yeah also throughout my reading journey today, really finding it impressed on me that we have to go and do it, live it, be it, instead of just saying and singing about it or buying the wristband. i'm going to buy a Makepovertyhistory wristband, but what's the point in just wearing something, saying something, (insert action here) something unless it's actually going to impact and make a difference? Isn't it at the core of being an evangelical (a title which I'm stoked to claim partly thanks to my upbringing and partly thanks to reading Brian this morning) about being passionate and actually doing stuff. Living it. Yes is the answer. I want to rediscover that following Jesus means actually walking in his footsteps, doing the things he did along the way... The subtect to those thoughts has been this song today (right click 'save target as'). Thanks to Tim Hughes. ;) ----- COMMENT: AUTHOR: The Walker girls DATE:2/04/2005 05:16:00 PM although really really flatered....i don't think i could ever put down in words the way god really is speaking to us guys...sucks wish i ha dthat gift that you are blessed with to express the most awesome emotions in language that makes me smile from the inside out...i'm so unbelievably jealous!!!ahhhh.
nevermind...i will find my talent one day
your a dude john.
xxx ----- COMMENT: AUTHOR: sabbath day's journey DATE:2/04/2005 10:23:00 PM Wow...you said it all in that last paragraph. We need more people discovering this truth. Well said. Nice blog!
Michele ----- -------- AUTHOR: John Gillespie TITLE: Tribute to a Legacy DATE: 2/02/2005 07:17:00 AM ----- BODY:

My Dad just got back from spending a few days in Arkansas with his parents (my grandpaarents) for Grandpa's 82nd birthday. These are his thoughts which he emailed to the rest of the family. There's nothing else I can say.

Dear Family (Nan and Nell,please pass this on to your children),Today is January 31, 2005. Last night I spent my last night in what I might term my "parent's house"). As you all know, they are packing up to move out of their own home and up to Kansas City, where they can be better cared for by their daughters. Today my heart is full, and thoughts occupy my mind as I consider their lives, their values, their legacy. I do not want what they have lived for to ever be forgotten, or to cease to speak to the generations that follow them.

From them we must all learn some things about true family life.

Building a strong family does not come about by accident. 62 years ago, John and Marty took vows on November 6,1943. They meant and kept those vows. No sooner had they become husband and wife than John left for the European War, and Marty moved from the leafy ease of Scarsdale NY to the comparative poverty and challenges of south Arkansas. She moved in with her husband's family, in order to make his people her people. South Arkansas in 1943 was a universe away from New York City! What a brave and devoted lady she was and always has been.

John survived the war and set out to be a faithful husband. Many times he has said to me "Marty's dad entrusted his precious daughter to me, and I have made it my aim always to honour him by truly caring for her." What a picture of faithfulness that man has been in my life, and in the lives of all he touched, both in family and in business!. They were dirt poor when they started out in married life. They lived for two years in a tiny trailer at the University of Missouri. Yet they began to lay foundations of faithfulness which stand strong till this very day. What a devoted husband John has been. What a devoted wife Marty has been. To see them now, well into their eighties, so in love, so committed to each other, makes me take stock of my life: What else counts but faithfulness and devotion? What fruit true faithfulness bears.

Consider with me that during our upbringing, neither Nell, Nancie, nor myself, ever once had cause to question our parents' love either to each other, or to us as their children. I think of all the thousands of miles John travelled, the hundreds of nights in hotel rooms. I think of how strikingly beautiful Marty was (is!) and of times when unscrupulous men looked her way. But never did these two compromise their vows. Not once did they put their home in jeopardy. Never once was their children's security threatened.

I think of their unmatched generosity. How many lives have been touched by their willing ness to give and reach out to help. I think of the enthusiastic, selfless hours which Dad has put into each of us, at various times, helping us complete some project, find some product, develop some scheme. What an enthusiastic love of others he always had! His generosity was only matched by that of his dear wife's, who never failed to love and give extravagantly. I can remember her waiting up all night during a heavy snow for me to return from work, meeting me at the door with tears and a smile. They taught their children to go beyond what is expected, and strive to be exceptional givers. I doubt that we will ever match or eclipse their giving spirit.

They could be tough! I can well remember the board of education meeting the seat of knowledge in their home! I remember like yesterday when I, a cocky 17yr. old, met the deserved fury of my 51 yr old dad. George Foreman would have been proud of him! But I learned my much needed lesson, and never doubted his unending love for me. In fact, I cannot recall a day going by when I was not told that I was loved and valued by my parents. Every day my mother would wake me for school by drawing back my curtains and greeting me with a warm "good morning ,son, I sure do love you!" John and Marty were more strict that any parents I knew. For us children, it was "yes sir", and "no ma'am". But, funny, "peer pressure" was somehow no match for their consistency, values, and love. It was just plain nicer to be home with them than out carousing with the gang. John and Marty, with their love, standards, and grace, made it easy for their children to believe in the Living God.

I see them now, sitting together in their chairs, able to look back on a live well lived, with little or nothing to regret. Younger ones, do we realize the immeasurable value of reaching the end of our days without regret.? How many will regret the rash decisions made in youth, the turns in life governed by selfish interests rather than by principle. Watching John and Marty reminds me that integrity and faithfulness is worth everything. Would we arrive at our old age regret free? As I see them sitting together, loving each other, praying together and still caring for others, I realize that I still need them: Their example encourages me still to live better.

Let us learn from these two the importance of the decisions we are making now. May we be guided not merely by personal interests, but by timeless principles of right and wrong. This is not optional! The stakes are too high to be haphazard. Furture generations will be made or ruined by the values we hold today and the decisions which flow from them. John and Marty have done their job well; we now have no excuse as we aim for the future.

Last Saturday night, the five of us, Mom, Dad, Nell, Nan, and myself sat together, probably for the last time in our parents' home, and soaked up the good feeling of just being together. We were able to value one another and the fantastic, grace-filled experience we had shared as family over 62 years. The next morning we went to church and worshipped the Lord Jesus together, sharing communion with eachother. What an unspeakable joy it was to stand together, the five of us, and sing "I stand in awe of You." God met with us as a family, and we were able to marvel together at a lifetime of experiencing His grace and goodness.

Now, in a very real sense, the torch has passsed from John and Marty Sr.to Tessa and myself. It is now our home that will bear the torch for this branch of the Gillespie family. With joy and earnestness we accept the noble call to carry on their legacy and values. But the flame is also passed to on to the families of the Riechers and Dischingers. I think too of the wonderful legacy of Joe and Estelle Gillespie, and the values that have flowed from them to their loved ones' homes. Young people: That generation has run well! We must continue the race. There is nothing more important for us to put our lives to.

As John and Marty move to their apartment Kansas City, I ,along with you, pray that God will grant them a rich and precious season there together. It is truly time for them to rest. It is time for us to run well the race set before us.

I ask you to join with me in saluting John and Marty Gillespie. The only fitting "thank you" that we can bring them is to carry their faith and values on in our families, with deliberate attention and joyful determination, that their legacy may live on for generations to come.

Love to you all,John D. Gillespie, Jr. (& Tessa)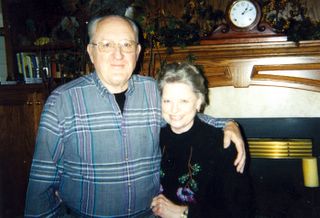 John and Martha (Marty) Gillespie

----- --------